Things have become easy. You want to reheat food, you have a microwave. Want cold water, you have a refrigerator at your service.
But it wasn't same in the olden times. Remember how your grandma wistfully says how water from earthen pots tasted infinitely better? She is not just being sentimental. There is some serious science backing the claim.  Earthen pots are porous in nature which helps in cooling water. It offers the healing attribute of the clay that benefits the human body.
According to health experts, these pots help to reduce the temperature of water in accordance with the climate. The clay used in making earthen pots is filled with minerals and electromagnetic energy which re-energizes the body and compensates for the loss of body power caused by the scorching sun.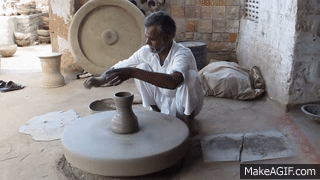 These pots even help to maintain the glucose of body and prevents the body from heat stroke during the summers. Besides all these benefits, drinking water from an earthen pot safeguards the digestive tract and balances testosterone levels. Clay pots are alkaline in nature which acts on the acidity of water. If you are drinking water through a clay pot, you might not feel acidity in the body. Also, there will be no gastric trouble.
ALSO READ: DabbaGoals: This Shop In Old Delhi Makes The Creamiest 'Stuffed Kulfis'. You're Welcome
Not only earthen pots are used to store water but also cooking. A chicken cooked in handi tastes better than that of kadhai or any other utensils.
But with so many earthen pots in the market, how to choose the correct one. When you go to buy one, make sure you ask the shopkeeper about the hand-made one. Pots made of mica particles is the one you need to select. Mica is a natural insulator and it ensures the water stays cooler for longer.
ALSO READ: Love miniature food videos? Then this YouTube chef will leave you mesmerised