From Parineeta to Kahaani 2, the roles Vidya Balan has opted to play in her career were both fictional as well as real life characters. Her Bollywood journey has earned her huge recognition. She has often opted to play the standalone characters – women whose role is not defined by any man. Whether it was the role of Lalita in Parineeta or Silk Smitha in Dirty Picture, every character she has essayed look like that it had been tailor made for her. With her every performance, she has effortlessly left an indelible impact on the audience.
Undoubtedly, she is one hero(ine) who can give even the Khans a run for their money. While talking to a daily, Vidya Balan, once, said that it is sexist to describe her as a film 'hero'. She has even described herself as the female Aamir Khan once. The bold actress has proved that a movie can run without the dominance of a male lead.
Reportedly, Bhalo Theko (Bengali) was Vidya's first movie, sorry I haven't seen it. So, I am starting with Parineeta, which I still find one of her best performances. No rawness, awkwardness, or the feeling of acceptance, the movie brought somebody with whom I could relate. A girl-next-door image was bang-on.
ALSO READ | Kahaani 2 movie review: Vidya Balan's film proves intelligent cinema can also be entertaining
Even when we saw her in Lage Raho Munna Bhai opposite Sanjay Dutt, she made sure to standout. In 2007 after the release of Heyy Babyy, Vidya faced a lot of problems. First, it was about her bad wardrobes, and curtain-like dresses and later spats with top dress designers. Also, she was criticised for weight gain. But Vidya knows what to do and what to avoid. She took control of her life and decided to lose weight, get herself a new designer and avoid negativity. Despite a series of flops, Vidya has emerged as a winner.
ALSO READ | Kahaani 2: Who would Vidya Balan want to be locked up with & her secret crimes [Must Watch]
Vidya without a doubt is one of the hottest ladies, no not a babe types, but an Indian woman who wears a 6-yard long saree. From movies like Bhool Bhulaiya to Paa, she's proved a point. She never thought a heroine needs to wear designer and classy dresses to look hot or be successful. She is very much comfortable in her cotton sarees.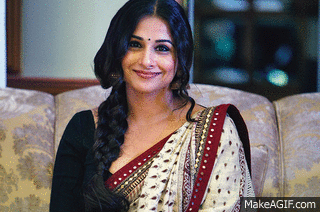 Her recent release, Kahaani 2, is again a film where they have shown a strong character of Durga Rani Singh – a mother and a woman. Though the film is named Kahaani 2, it is a standalone movie which shows Vidya's bold and fleshed-out character.
Coming to her 'social media' life. The actress joined Twitter seven years back and finally got her account verified last year. The 37-year-old made sure to give her opinion on almost every trending topic. She has made it a point to reply her fans too. She was one of the Bollywood celebs who stood up for Hillary Clinton during US elections.
Happy sunday morning @Rou_vid … Truly touched by your love … Thank you so much .. Lots n loads of love to you.

— vidya balan (@vidya_balan) June 26, 2016
Hoping and praying @HillaryClinton becomes the next President of USA: @vidya_balanhttps://t.co/qZ9N0aa80Q pic.twitter.com/tZbMxKCRhe

— IE entertainment (@ieEntertainment) November 8, 2016
Her classical Indian face – Round, wheatish and absolutely gorgeous one, draw audiences to her films. We as an audience can easily relate to her. She is a powerhouse of talent. She fits perfectly in every role she has opted up till now. Whether it was a girl-next-door look or glamorous one, she put the screen on fire with her stunning looks in every film. Her powerful acting, in No One Killed Jessica and Kahaani, helped her conquer the world.
Today after watching her Kahaani 2, I am eagerly waiting for Begum Jaan — Indian historical drama film directed by Srijit Mukherji.
I really hope to see her doing great work in future, without thinking about others.
And here is what happened when she spoke to InUth: