Love Jihad is back!!! The most vigilant and responsible members of Hindu society, the doyen of Hinduism and protector of the Indian culture, the Akhil Bharat Hindu Mahasabha is once again in action after Union Public Service Commission (UPSC) examination topper Tina Dabi announced that she will be getting married to Athar Aamir-ul-Shafi Khan.
Remember Athar? He is the guy who won accolades for securing the second position in the civil exams. But doesn't matter if he managed to shine with flying colours in restive Kashmir. At the end of the day, he is a Muslim and Tina is a Hindu.
But wondering how the Hindu Mahasabha came into the picture? We'll tell you. The organisation is here to help the poor and innocent UPSC exam topper who is being 'trapped' by Athar. They claim that Muslim boys like Athar convince young and sinless girls like Tina to convert to Islam and increase the Muslim population of the country. Scary! Isn't it?
What is Love Jihad.
While talking to InUth, a Hindu Mahasabha leader sheds light on the phenomenon for the unawares like us. "Innocent Hindu girls are shown dreams of love and affection by Muslim boys. They are forced to convert to Islam and give birth to Muslim children. All this is done to increase the Muslim population in the country and make India an Islamic nation," claims National Secretary of the group, Munna Kumar Sharma. We truly appreciate Sharma ji's concern for 'poor and innocent' UPSC exam topper Tina Dabi.
So, you think an IAS topper would not know the difference between right and wrong?
"All this is done very shrewdly. A suitable Muslim boy is 'set up' with a Hindu girl. He shows her dreams. In the past, people like Kareena Kapoor converted because of Saif Ali Khan, Gauri converted due to Shahrukh Khan and Reena Dutt, Kiran Rao converted because of Aamir Khan. What is all this?" Sharma asks. Bravo for exposing this grand plot!
At the same time, he also maintains that marriage is a personal choice and the organisation supports marriages which are out of caste. "We even promote marriages without a dowry," he says. Indeed, a very nobel man!
The organisation has now pulled up its socks. It has vowed to not let an innocent girl like Tina fall into the trap of any conspiracy. These custodians of faith will reach out to Tina's parents and convince them not to be irresponsible enough to marry their daughter to Athar. Their fight will not just end there. They also plan on meeting the government officials to formulate laws to end "love jihad". Way to go people!
But what if her parents are not ready to meet them? Why wouldn't they, this is just a meeting, he says. And he is absolutely right. After all, he is doing them a favour by thinking about the well-being of their daughter.
But are girls like Tina, who secured the first spot in civil services exams, dumb enough not to understand the difference between being 'framed' and 'love'? Could be. After all Hindu Mahasabha isn't doing this for publicity!
Tina and Athar may be two intelligent adults who have cracked one of the hardest exams on earth but they need guidance in matters of the heart.
Following a religion is a personal choice, no doubt. But these religious pundits (liberals usually call them 'dalal', shame on them) have some responsibility too. How can they let two adults make a wrong choice, especially if the girl is a Hindu and the boy, a Muslim.
The organisation is generous though. It has said that it will support the marriage if the boy converts to Hinduism instead of the girl.
It's not the first time that the organisation is coming forward to share their enviable wisdom. They also voiced their concern on issues like celebration of the 'uncultured' and West-inspired Valentine's day. They never opposed celebrations on the day, all they said was that February 14 should be celebrated as "love-marriage day", asking couples to marry if there are spotted in parks or gardens. This proves they are not against having love affairs!
No, don't call them hooligans. They are just indulging in such wise practices to save girls from being cheated in relationships. They don't want girls crying, after all. Hard-core Rajesh Khanna fans, we must say.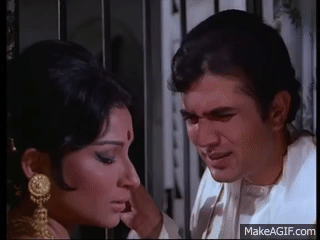 This moral policing is much needed. Thank you for your guidance. What will we girls do without your help?