It goes without saying that Indian Armed Forces are the most prestigious institution in the country which are admired by one and all for their values, probity, work ethic and discipline. They offer a career full of excitement, adventure, challenges and above all an opportunity to serve the motherland. Before 1992, the Army was almost inaccessible to women but for the medical and nursing services Be it the Army, Navy or Air Force despite the huge gender gap woman are now gradually breaking barriers and making their presence felt.  Prime Minister Narendra also acknowledged the growing role women play in armed forces. Addressing Indian diaspora in Netherlands, the PM said that women were starting to play a major role in India's security adding that Indian women were now flying fighter aircraft. President Pranab Mukherjee last year announced that women will be allowed to take up combat roles in all sections of the Indian armed forces, signalling a marked shift in gender parity in male-dominated profession.
Here we have enlisted 8 incredible female officers in Armed Forces who are making the country proud
1) Sophia Qureshi: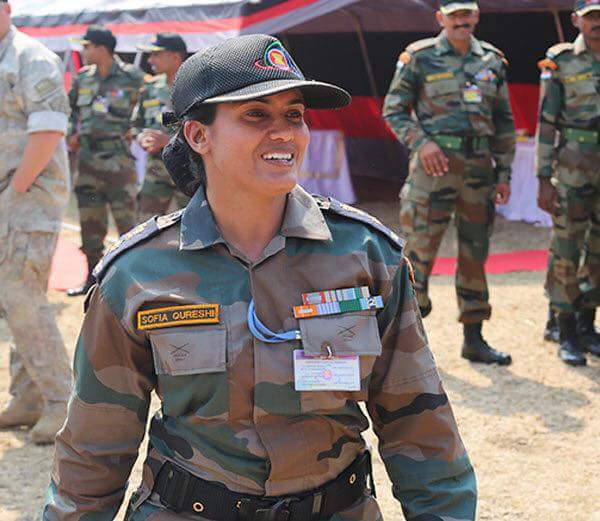 Image Credit: Twitter
Lieutenant Colonel Sophia Qureshi is the first woman officer to lead an Indian Army contingent at a multi-national military exercise. She was the first and only woman leader amongst 18 participating contingents in the largest ever foreign military exercise "Exercise Force 18" hosted by India.
2) Gunjan Saxena:
Gunjan Saxena scripted history after she became the first woman pilot to fly her plane in combat zone. Also known as kargil girl in IAF circles, Saxena flew her Cheetah helicopter in extremely hostile terrain to rescue injured soldiers in the Kargil War. In the 10 sorties over one week, she air-dropped vital supplies to troops at higher points in the Dras and Batalik sectors. According to report in Outlook, Saxena picked up the dead and wounded from jagged mountain edges where flying a chopper requires an inordinate amount of skill, all while escaping Pakistani gunfire and missiles from below.
3) Priya Semwal:
Semwal was the wife of an Army Jawan who died in a counter-insurgency operation in Arunachal Pradesh. She was later inducted into the Corps of the Electrical and Mechanical Engineering (EME) of the Army as a young officer in 2014. The 26-year-old mother of the then 4-year-old Khwahish Sharma was left broken after her husband Naik Amit Sharma serving with the 14 Rajput regiment, was martyred in a counter-insurgency operation near hilly Tawang in Arunachal Pradesh in 2012. She later decided to join the army as a tribute to her husband and his love for the motherland.
4) Nivedita Choudhary:
Flight Lt Nivedita Choudhary became the first woman from the Indian Air Force (IAF) to scale world's highest peak Mount Everest. Co-incidentally she also became the first woman from Rajasthan to achieve this feat. Choudhary considers this as the biggest acchievment of her life. "The one hour I spent on world's highest point etched my name in history. It will always be the best moment of my life," she says with a smile. The IAF officer chanced upon a broadcast calling for volunteers for IAF's women expedition to the Everest during her posting at Agra in October 2009. She volunteered for the extreme adventure, little did she know that three years later, she would do what no woman in the air force had ever done.
5) Divya Ajith Kumar: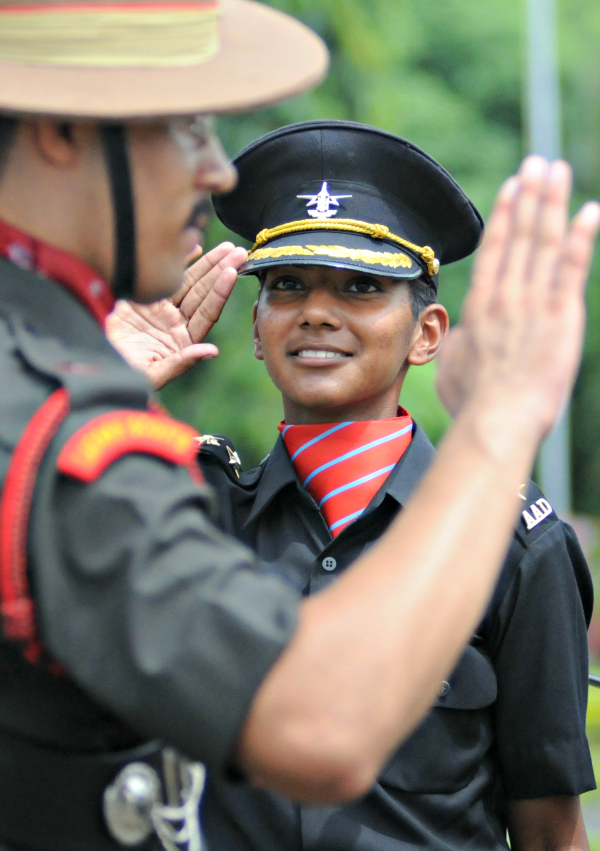 Captain Divya Ajith Kumar caught national attention after she led a contingent of 154 women officers and cadets during the parade, where US President Barack Obama was present as the chief guest in 2015 Republic day celebrations. Her early years at National Cadet Corps inspired her to join Indian army.
In 2010, Kumar became the first woman in the history of the Indian Army to receive the coveted 'Sword of Honour' prize, which is awarded to the best cadet. The army officer outclassed a total of 244 cadets, including 63 women to receive this honour. The charismatic lady teaches at Officers Training Academy in Chennai she travels to schools and colleges to talk to students and inspire them to consider a life serving the nation by choosing a career in the Armed Forces.
6) Priya Jhingan:
Jhingan created a history of sorts after she became the first lady cadet to join the Indian Army. She was enrolled as 001 on September 21, 1992. Soon after she finished her graduation, Jhingan wrote a letter to the then Chief of Army Staff, General Sunith Francis Rodrigues, requesting him to open the doors of the armed services to women. A year later, 24 new female recruits began their journey in armed forces. After her retirement, Jhingan famously said, "It's a dream I have lived every day for the last 10 years."
7) Ganeve Lalji: 
Lieutenant Ganeve Lalji, a young intelligence officer, has the distinction of being the first woman to be appointed as a key aide to an Army Commander. A third-generation Army officer, Lt Lalji was commissioned in the Corps of Military Intelligence in 2011 and has recorded several achievements during here Young Officers' course in Pune, an Army official said on Friday. She was selected for the coveted post in July 2013 after a rigorous selection process.
8) Mitali Madhumita: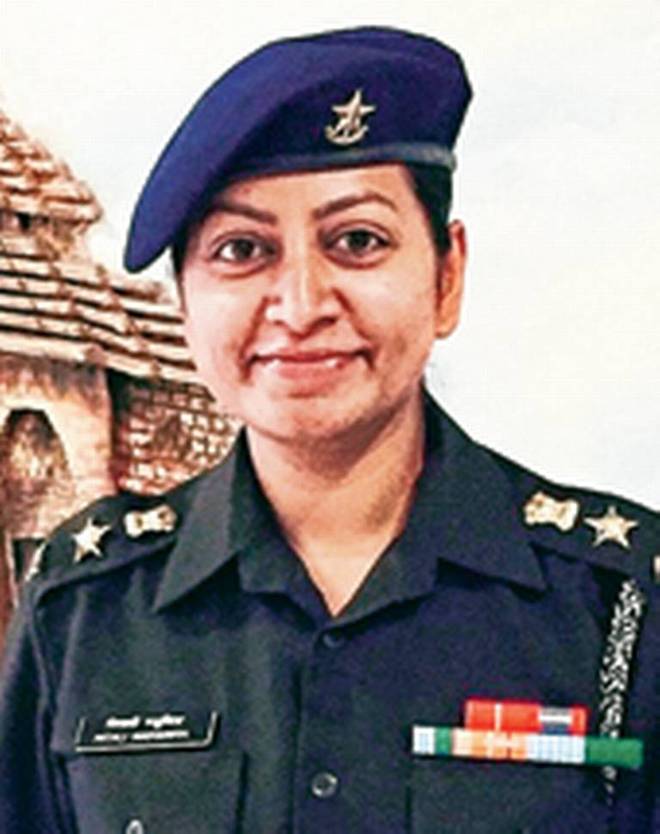 Lt Col Mitali Madhumita became India's first female army officer to have won a gallantry award for saving at least 19 lives during the February 2010 terrorist attack in Kabul. According to a report in Indian Express, the army officer was the first officer to reach the Indian guesthouse that came under attack by suicide bombers on February 26. The officer was staying at a nearby guesthouse when she got information that the Indian facility had come under attack. Though unarmed, she literally ran close to 2 km to reach the spot and rescued her colleagues who were trapped beneath the debris. While two Indian Army officers died on the spot, Major Madhumita personally extricated several officers of the Army training team who were buried beneath the rubble.