Senior BJP leader and Rajya Sabha MP Subramanian Swamy is always up for controversies. He never minces his words and is quick to give out an opinion on any and everything. The learned lawyer often finds himself in hot water by his bizarre statements and theories.
And Swamy is at it again. This time under attack by his latest salvo is Chairman of Tata Group, Ratan Tata. Calling him 'the most corrupt chairman in the history of the Tata Group', he claimed that it could be Ratan Tata's jealousy against Cyrus Mistry that might have led to his sudden removal from the post. Swamy also alleged that Ratan Tata has been involved in various scams like the 2G scam, Air Asia scam, the Vistara partnership and the Jaguar deal.
"He has taken the step to save himself from getting caught in scam deals, but he will not be spared whenever he is tried in court," he said.
Ravana was a Dalit from Uttar Pradesh. Yes, Swamy claimed that while addressing a seminar in Varanasi. He said Ravana was born at Basrakh near Ghaziabad while Mandodari was from the Meerut region. He also claimed that after being blessed by Lord Shiva, Ravana dethroned Kubera to capture power in Lanka.
Just a few days back, stepping in to share his 'insights' over the row on Pakistani artists performing in India amid tensions between the two countries, Swamy had made his stand amply clear. Stop this "naach gaan business", he had said. He said that the agitation to bar Pakistani artistes from working in India reflected the "mood of the country".
"Today, we have a situation where we have prepared the country's mind that it may be a possibility in the future that we may have to go to war because we have been to war with Pakistan four times already. It's not an unusual event. It could be war. And therefore to prepare the minds of people, we cannot allow these dilutions of cinema artists and cricket players coming to our country and playing. We cannot allow that. This is our decision," he had said.
His attacks on Raghuram Rajan seemed to be an everyday affair. Not just on Twitter and in his statements, he had also written to Prime Minister Narendra Modi seeking immediate sacking of the former IMF Chief Economist as the RBI governor. He had claimed that Rajan was "mentally not fully Indian" and has "wilfully" wrecked the economy.
He advocated replacing history books written by Britishers in pre-Independence era, claiming that they had "distorted" facts about India. Swamy said that even in the course books of schools and colleges, the facts about Hindu kings should be mentioned more than the Mughal emperors like Akbar, Aurangzeb and others.
The BJP leader also said that Sanskrit should be made compulsory in schools. He pitched for rebuilding temples in places where they were allegedly demolished and mosques built.
He hasn't just hit out on history books, he also attacked Muslims. "99% of my twitter followers with Muslim names tweet like mental retards. Are these retards tweeting with faked names or is it congenital?," he had tweeted.
His Twitter account is flooded with conspiracy theories. Eve with little or no facts, he makes it a point to tweet out his views and eventually lead to a row. He quipped that Amir Khan starrer PK was funded by ISI. Reason? Who knows!
"Who financed the PK film? According to my sources, it is traceable to Dubai and ISI. DRI must investigate," he had tweeted.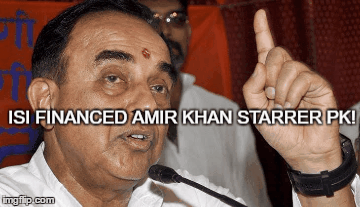 We are sure Swamy will keep giving us fodder for more laughs.