Aamir Khan's massive transformation took everyone by surprise. His latest workout  routine and his journey from flab to fab has been shared by the UTV Motion Pictures and let us tell you, we strongly feel that it is nothing more than a publicity stunt to promote his upcoming film Dangal. Interestingly, the actor has tried the same strategy in the past as well!
For those who call Shah Rukh Khan a marketing king, they should take a look at Aamir Khan's marketing strategy. If you think that Aamir Khan's workout video was out there to inspire and motivate us all, then you are wrong. It did more than that!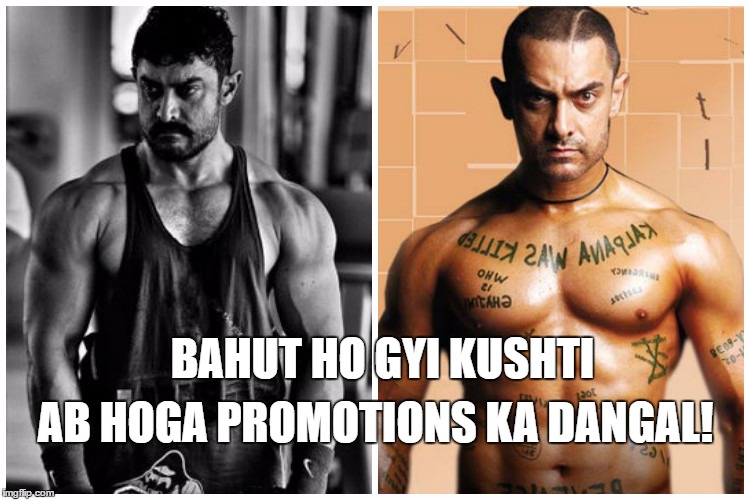 The sublime way to promote the film has always been Aamir Khan's forte and he nailed it once again. From attending Geeta Phogat's wedding to showcasing his physical transformation for the role, Aamir's promotion strategy has been a hit among the masses and what we are going to show you next will make you believe us!
Yes, we get it! Aamir Khan faced a lot of health related problems while shooting for Dangal. The actor put on weight only to shed those extra kilos to portray the younger version of his character in the film. Ask, Aamir why he did this and he has an answer for that. In the video, he says:
"Agar mai young portion kar lu aur wazan badhake mai old ka jo portion hai woh karu, toh jab film complete hogi toh uss waqt mai mota rahunga. Aur koi wajah nahi hogi mere liye wazan kam karne ki!"
Really! Aamir, so what you are trying to say is that you won't have a motivation once you put on weight to lose it? If that is the case, then what about people who find 'staying fitter' as the perfect motivation because clearly Aamir Khan you don't workout to stay fit on a regular basis!
But it's nothing more than the 'same wine in a new bottle'. Long ago, Aamir Khan brought the concept of eight pack abs with his suspense thriller Ghajini. Right before the release of AR Murugadoss's thriller, he shared a couple of videos on YouTube where he was seen working out to attain a chiseled body. The inspirational journey and the massive transformation that the actor underwent left us all shocked.

(Courtesy: YouTube|Kushal Shah)
Let's be honest about it, we all were shocked as well as excited to see Aamir Khan working out so hard to get fitter. The realistic progress that was shown in the video was new but what we are seeing eight years down the line is sadly a mere repetition. Sorry Aamir, we got you this time.


(Courtesy: YouTube|venkyroses36's channel)