If you have ever watched 'Koffee with Karan', you would be aware of what a rapid fire round is. For those who haven't heard about it, questions are posed to individuals and they are supposed to say the one word that comes first to their mind or a something that they associate the person with. Politicians this season seem to be playing this Rapid Fire round in the game of elections. And the question they all seem to be answering is 'Who is Narendra Modi?'.
From opposition parties to the ruling Bharatiya Janata Party (BJP), several political leaders have drawn comparisons of the Prime Minister, some to sing praises, others to criticise the BJP leader.
Here are some of these analogies that have been drawn. Do you agree?
Ravana: Mythology given an entry into the election season when state minister and senior Samajwadi Party leader Azam Khan compared Prime Minister Narendra Modi with demon king Ravana while campaigning for the Uttar Pradesh elections in Rampur. "The king who rules over 130 crore Indians goes to Lucknow to burn the effigy of Ravana, but he forgets that the biggest Ravana is not in Lucknow but lives in Delhi," he said.
Seen as a political plank, Modi had visited Lucknow to celebrate Dussehra. The visit was termed historic as it was the first time that a sitting Prime Minister attended the function of 'Ravana Dehan' anywhere else other than in the Ramlila ground in Delhi. UP CM Akhilesh Yadav had then taken a jibe at the PM stating that "if elections were happening in Bihar, then Ravana would have been burnt there."
But Ravana was an extremely learned bad. Is this comparison really bad?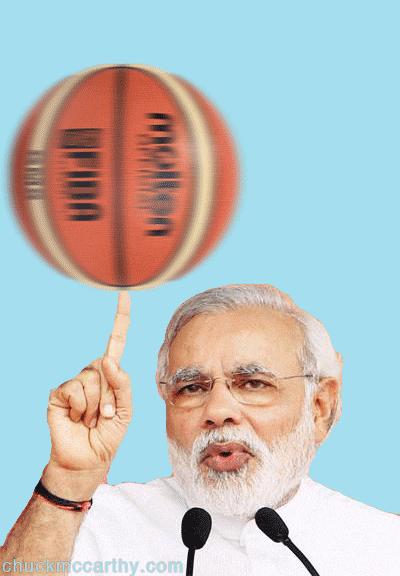 Yamraj: Senior Bahujan Samaj Party (BSP) leader Satish Chandra Mishra equated Modi with 'Yamraj' accusing him of the death of several people after the recent demonetisation decision. Taking a jibe at the PM he said, "due to the demonetisation decision, nearly 150 people had lost their lives. Not Yamraj but some other Yamraj was responsible for these deaths."
Narendra Modi had on November 8 announced a ban on the old Rs 1000 and Rs 500 currency notes. Several restrictions had been placed on people to withdraw the money forcing a situation of cash crunch in the society. People stood in long lines for hours to withdraw and deposit their hard-earned money.
Lion: Lauding his leader, BJP national general Secretary Kailash Vijayvargiya called Modi a lion. Putting his foot in the mouth, the motormouth BJP leader also compared those leaders who are opposing the Prime Minister with cats and dogs. He said that a bunch of "dogs and cats" coming together won't effect Modi in any manner.
This is not the first time that this BJP leader made it to the headlines with his controversial comments. Just recently, he created a row after a person died at the Vadodara railway station after actor Shah Rukh Khan embarked on a train journey to promote his latest release Raees. He compared the actor with the fugitive underworld don Dawood Ibrahim and said, "If Dawood Ibrahim comes on the streets, there would be crowd to see him. You can't gauge the popularity on the basis of crowds."
What can be expected from Na-#Kaabil leaders like @KailashOnline ? लोकतंत्र विरोधी भाजपा का असली चेहरा …ज़हरीले कैलाश विजयवर्गीय https://t.co/0CqegnCK7I

— Shehzad Poonawalla (@Shehzad_Ind) February 7, 2017
Swami Vivekananda: On the 154th birth anniversary of Swami Vivekananda, BJP leaders equated the qualities of the renowned spiritual leader. Appreciating Modi, Union minister Jayant Sinha said: "Why is it that we feel Swami ji is so inspiring, personal to us? I think there are three aspects. First, he is very humane… he is also universal. In some ways, he might have been the first global leader. It is a very, very rare quality, we come across such quality once in a generation. We are very fortunate to have a prime minister who has the quality, that he fills us with hope."
BJP leader Ram Madhav also echoed Sinha's statements when he said: "Two qualities of Vivekananda – born Narendra Nath Datta – stood out. One, he was fearless, and the other that he had a clear understanding of the Hindu religion and about the land (India). He (Vivekananda) was fearless… he was courageous… there is some inherent connection between Narendras and courage. Narendras tend to be courageous."
Clearly, there is no dearth of die-hard followers of the Prime Minister in the ruling government!
Ram Madhav, Jayant Sinha compare PM Narendra Modi to Swami Vivekananda – Economic Times https://t.co/7E7yIsizbv | https://t.co/9WEQpXnU29 pic.twitter.com/JhglxMD8mb

— NamoNamo.in (@NamoNamoIndia) January 10, 2017
Thomas Edison: Last but not the least. Not just politicians, some parallels have been drawn by others like the Deputy Commissioner of Police (DCP) too. Praising Modi's demonetisation drive and convincing people to opt for a cashless society, DCP S V Parmar said: "When Edison invented the light bulb in 1800s people had to be told, don't be afraid, there won't be an explosion or you won't get stuck if you touch the switches. From then on, we have come to what we have today. Similarly, if we take to the cashless system, slowly it will benefit us. This is a good policy of the government."
What an idea, sirjee!
Keep them coming, we're loving it!